Before You Get Started…
ALWAYS ASK FOR HELP IF YOU NEED IT. WE ARE A 501(c)3 NONPROFIT COMMUNITY SERVICE-BASED ORGANIZATION, AND WE ARE HERE TO HELP YOU!!!
The AL&FP Street Team is available to help you:
physically search for your missing pet,
create posts on Nextdoor, Craigslist, Lost Dogs of Texas, Pawboost, etc. for you,
make and put up signs for animals you have lost or found,
scan found animals (both living and deceased) for microchips,
research unregistered microchips, as well as those in which the contact information is no longer up to date,
and more.
If you need anything, just ask. We are here to help YOU!
First, THANK YOU
to everyone who makes the effort to get a stray animal off of the street, reports loose animal sightings, and keeps found animals safe while searching for their families. In order to most effectively manage your role as a pet finder or owner, please follow our guidelines below as completely as you are able – and please remember to ask for help from the AL&FP Street Team if any of the steps are beyond your capabilities.
If You Have Found A Pet…
Please note that it is OKAY to take the animal to our local shelter – Austin Animal Center. That is what the animal shelter is for. Austin Animal Center is the largest "no kill" shelter in the United States, so you don't have to worry if you need to take an animal you have found there.
FOUND ANIMALS DO NOT GO TO AUSTIN PETS ALIVE, AUSTIN HUMANE SOCIETY, OR ANYWHERE OTHER THAN AUSTIN ANIMAL CENTER
, located at
7201 Levander Loop
. They are open from
11am – 7pm
on weekdays and, on weekends,
11am – 5pm
for intake and
11am – 7pm
for reclaiming and adoptions.
Unfortunately, the shelter can only hold found animals for 3 days before putting them up for adoption. Sometimes, due to circumstances beyond their control, an owner cannot find or reclaim their loved one that quickly. If you can hold the animal for even as little as a few days, while completing as many of the steps below as you can, you will greatly increase the odds of the pet going home.
Get the animal scanned for a microchip
as soon as possible. Any vet clinic, some pet stores (Tomlinson's, PetSmart), or the nearest shelter can scan for a microchip. If you are unable to transport an animal for scanning, please tag an Admin or Moderator to contact a street team member to come to you for a scan. Ensure that wherever your scan is performed, that the entire body of the animal is scanned, as microchips migrate. Despite being implanted in the neck/shoulder area, microchips have been found in noses, ears, backs, bellies, legs, feet, tails and genitals. Many vet clinics are still unaware of this phenomenon. Insist on a full body scan.
Submit a Found Animal report
by calling 3-1-1, via the 3-1-1 app, or complete one of the online forms below . This step is CRUCIAL to get the pet listed in the Austin shelter's database – even if it's still with you – so that owners that are searching the local shelter's website will find their pet's listing. 
Found Animal – Keep
Use this service request to report a found pet that you wish to keep until the owner is located. If you would not like your contact info shared with possible owners please call 311.
Found Dog (Confined) Pick Up
Use this service request to report a confined live dog that has been found and you are requesting Animal Control to pick it up.
Loose Dog Pick Up Request
Use this service request to report dogs running loose. Animal Control will make every effort to capture the loose dog during regular business hours.
Post on Austin Lost & Found Pets Page
Your first sentence should say something simple like "LOST Dog" or "FOUND Cat." This helps with tagging and keyword searches.
INCLUDE the following in your post:
Photo(s) of the animal
Date found (or approximation if animal has been seen in area for some time)
Location found -Include nearest cross streets and/or major intersection, what part of Austin (NW, SE, Central etc.), name of subdivision, neighborhood or surrounding city/county
Gender (male or female)
Breed or physical description, if mixed, and approximate weight
Approximate age
Microchipped?
YOUR CONTACT INFO – Phone/text #, email address, etc.

 
You can intentionally leave out a distinguishing characteristic from your written description (such as a scar or unique mark). 
If you don't have a photo handy, go ahead and post as much info as you can, but come back and add a photo as soon as possible.
DON'T WORRY – IT IS PERFECTLY SAFE TO SHARE PICTURES AND OTHER PERTINENT INFO ABOUT ANY PETS YOU FIND. IT IS IMPORTANT TO ALWAYS REQUIRE PROOF OF OWNERSHIP SUCH AS PICTURES OR VET RECORDS, BEFORE RELEASING A FOUND ANIMAL TO ANYONE BECAUSE, UNFORTUNATELY, THERE ARE PEOPLE IN OUR COMMUNITY THAT FALSELY CLAIM FOUND ANIMALS AS THEIR OWN IN ORDER TO KEEP THEM FOR THEMSELVES, SELL THEM OR USE THEM AS BAIT IN DOGFIGHTING, FEED THEM TO SNAKES, ETC.
Search and post on NextDoor and other neighborhood networks
Search and post on NextDoor.com as well as your neighborhood listserv, Facebook page/group, etc. if there are any for your area. If you do not live in the neighborhood where the animal was lost or found, let the admins on Austin Lost and Found Pets Page know. We will find someone that does to create a post on NextDoor.com for you.
Search and post on Craigslist "Lost & Found" & "Pets" Community sections
It is important to post in both sections, in case the person that found your pet only looks at one of them.
If you have any issues posting on Craigslist, please let one of our Facebook group admins know, and we will help.
Post flyers or posters
in the area that the animal was found, including nearby vet clinics, entrances and exits to the neighborhood, and major intersections in the area. Remember that many people are not on facebook and at least a decent proportion of the population are not online really at all.
The owner may not be 'online' or use a computer. This is why it's important to talk with neighbors, put up posters/signs, and pass out flyers.
Require proof of ownwership
from anyone claiming the animal is theirs. Details about a collar, distinguishing marks, photos of the pet at home with owner, family, vet records, documentation of shots, etc. Call their vet to verify, if needed. If it's really their pet, they will not have a problem with you confirming ownership. If it's not, requiring proof of ownership pretty much always stops them in their tracks. 
ALFP will do everything we can to help.
Please contact one of our admins if you have any questions or need any assistance.
Thank you and best wishes!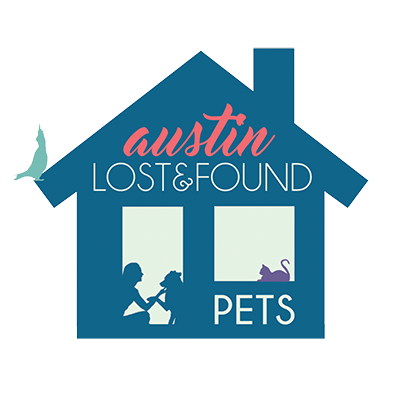 Call Our 24-Hour Hotlines
Mending broken hearts in Austin, Texas since 2012
We are pleased and proud to have kept literally thousands of animals out of the shelter over the past five years and to have reunited countless families in our community.
Austin Lost & Found Pets looks forward to saving more pets and mending more broken hearts than ever before in 2018.